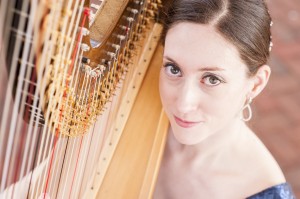 When I first began playing the harp at the age of nine, I couldn't reach the pedals! I fell in love with the instrument years before on a family trip to Ireland, and I haven't looked back. I have performed for weddings and other events since I was twelve years old when I was paid with gifts instead of money. Fast forward to today, and I have played the harp for hundreds of weddings, parties, concerts, and for many other occasions.
I studied with the current Singapore Symphony Principal Harpist, Gulnara Mashurova, in New York City for eight years before attending The Peabody Conservatory of Music of the Johns Hopkins University in Baltimore, Maryland, where I studied with renowned harpist, Dr. Ruth Inglefield. During my time at Peabody, I played with the Peabody Symphony Orchestra, The Peabody Wind Ensemble, and many chamber groups.
In addition to my harp studies, I have always been passionate about singing. I received Bachelor's degrees from Peabody in both harp and voice performance. While there, I studied voice with distinguished mezzo-soprano, Marianna Busching. I was a member of The Peabody Singers for all four years at Peabody. I appeared in The Marriage of Figaro, The Tales of Hoffmann, and the world premiere of The Yellow Wallpaper as a member of the Peabody Opera Company. Upon graduation, I was awarded the Charles M. Eaton Prize for vocal performance, as well as the Azalia H. Thomas Prize for Music Theory. Additionally, I was elected to the Epsilon Omicron chapter of Pi Kappa Lambda, a higher education honor society for music.
Following my studies at Peabody, I decided to pursue my Master's degree in vocal performance at the Boyer College of Music of Temple University in Philadelphia, Pennsylvania where I studied with the established mezzo-soprano, Dr. Lorie Gratis. I appeared in La Boheme as a member of the Temple University Opera Company. I was also a member of the Temple University Concert Choir and the Graduate Conductors Choir. After graduating with my Master's degree, I settled in the Philadelphia area, where I started my business and worked for over six years. I am excited to be moving to the Washington, DC metro area, where I will have the opportunity perform in the nation's capital.  I am very fortunate to be able to do what I love every day, and to share that love of music with others!