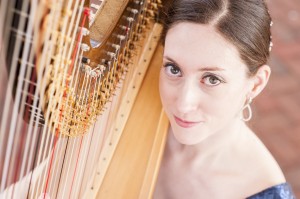 When I first began playing the harp at the age of nine, I couldn't reach the pedals. I fell in love with the instrument years before on a family trip to Ireland, and I haven't looked back. My harp performance career began as a twelve year old, and since then, I have played for hundreds of special events. In so many ways, my profession chose me, and what a blessing that has been.
My harp studies began in New York City with the current Singapore Symphony Principal Harpist, Gulnara Mashurova. The eight years that I spent under her tutelage were critical in my development. I began my collegiate studies at the Peabody Conservatory of Music of the Johns Hopkins University in Baltimore, Maryland, where I studied with Dr. Ruth Inglefield. During my time at Peabody, I performed with the Peabody Symphony Orchestra, The Peabody Wind Ensemble, and many chamber groups.
In addition to my harp studies, I have always been passionate about singing. I received Bachelor's degrees from Peabody in both harp and vocal performance. I had the privilege to study in the voice studio of mezzo-soprano, Marianna Busching. During all four years at Peabody, I was a member of The Peabody Singers; the conservatory's elite vocal ensemble. I appeared in The Marriage of Figaro, The Tales of Hoffmann, and the world premiere of The Yellow Wallpaper as a member of the Peabody Opera Company. Upon graduation, I was awarded the Charles M. Eaton Prize for vocal performance, as well as the Azalia H. Thomas Prize for Music Theory. Additionally, I was elected to the Epsilon Omicron chapter of Pi Kappa Lambda, a higher education honor society for music.
Following my studies at Peabody, I earned my Master's degree in vocal performance at the Boyer College of Music of Temple University in Philadelphia, Pennsylvania, in the studio of Dr. Lorie Gratis. I appeared in the Temple University Opera Company's production of La Boheme. I was also a member of the Temple University Concert Choir and the Graduate Conductors Choir. After graduation, I settled in the Philadelphia area, where I started my business and worked for over six years. In 2016, I relocated to Virginia in the Washington, DC metro area. I have been honored to receive the Wedding Wire Couples Choice Award and the Best of Gig Masters Award for the past four years. I am very fortunate to be able to do what I love every day, and to share that love of music with others!