Weddings
As your guests are seated, I will play beautiful background music that will set the tone for your romantic wedding. All eyes will be on the bridal party and the bride as I provide impeccable musical ambiance for your wedding processional, whether it be Canon in D or Christina Perri's A Thousand Years. It will be a moment you will never forget! During the ceremony, I offer music for the unity candle lighting or sand ceremony. I also can provide music for a full Catholic Mass. Finally, joyful harp music will be heard as you make your exit as a married couple during the recessional. My mission is to make your dream wedding ceremony a reality.
Wedding Cocktail Parties/ Receptions 
The harp is an excellent choice for a cocktail party because the sound travels very well, but in a way that does not interrupt conversation. I offer a wide range of musical genres from Bach to Gershwin to Adele. We can tailor a set list to suit the atmosphere that you wish to create. You will impress your guests with the stunning appearance and sound of the harp.
Corporate Events
Take your corporate event to the next level with the harp. Your clients will appreciate the elegance of live harp music. My eclectic repertoire can set the tone for a diverse array of corporate events from an informal luncheon to a gala ball.
Concerts
I perform concerts for a variety of venues including recital halls, churches, and senior communities. My conservatory training and my many years of experience enable me to put on a performance that will wow your audience. I offer an entire program of classical music, an entire program of popular music, or a mixture of both. In order to create a comfortable atmosphere, I tailor my concerts to be interactive with the audience. At the end of the concert, I welcome questions and invite the audience to get an up-close look at the harp, which is a first for many people.
Funerals and Memorials
The harp is a very soothing instrument and it can be of great comfort at a time of profound sadness. As loved ones arrive at the memorial site, I can provide calming music. I am able to accommodate both a brief memorial service or a full church service.
I am also available for private parties, showers, birthday parties, anniversary parties, engagement parties, proposals, holiday parties, church services, charitable events, and more. 
Harp and Cello Duo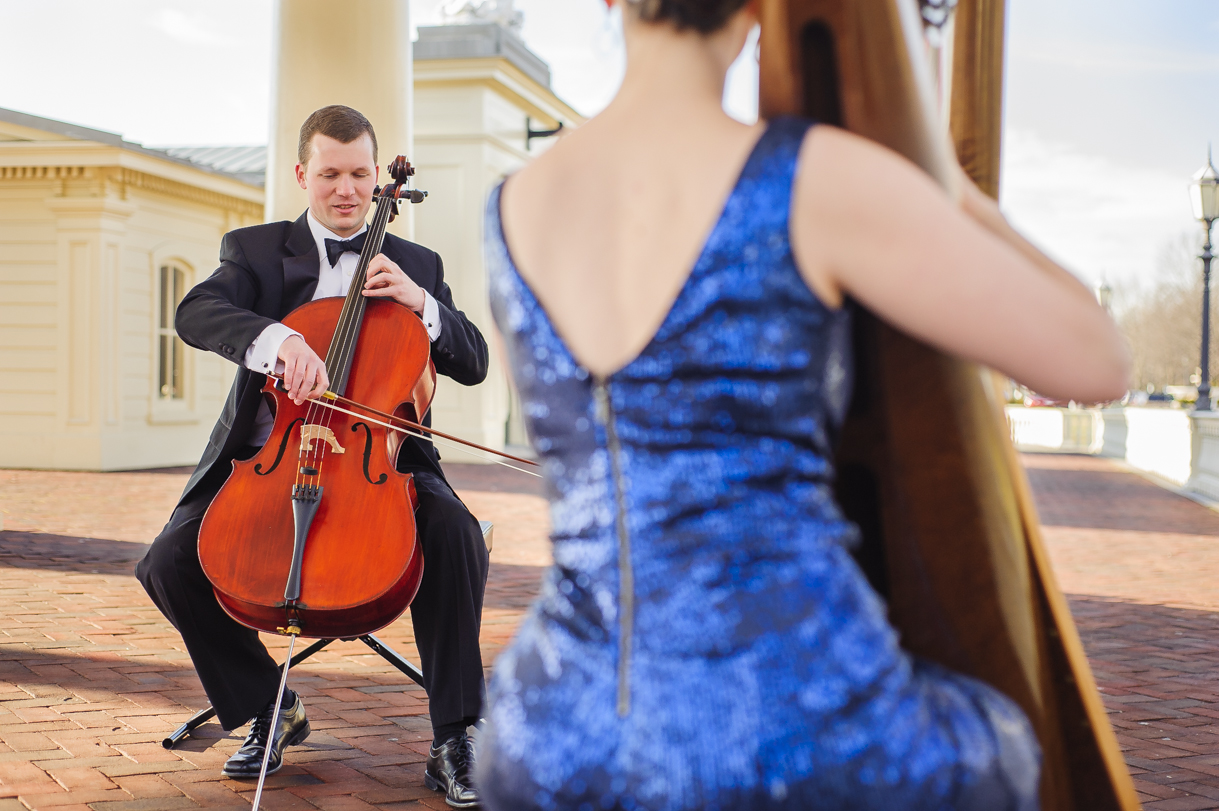 The cello can be added to any of the above services, if desired. The cello's rich and warm timbre when joined with the celestial sounds of the harp provides a winning combination. This unique and seamless musical pairing will make your special event something that your guests will be talking about for years to come.
Vocal Artistry
As a classically trained vocalist, I can accompany myself on the harp for any of the above events. I can sing and play an entire concert, cantor a Catholic Mass, or serenade your guests at a private party. It will enable you to hire only one musician instead of two.
For specific musical selections for your event, please visit the repertoire tab.
Military Discount
As a small token of my appreciation for the service men and women who bravely defend our country, I offer a 10% discount to all active and former members of our military and their immediate families. Thank you for your service!
If you have any questions, or if you would like to inquire about my availability, please use the contact form.